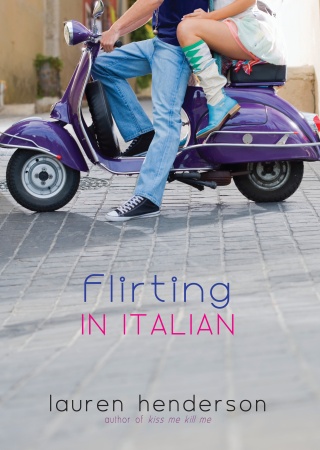 Title:
Flirting in Italian
(standalone, but there will be a companion novel)
Author:
Lauren Henderson
Genres:
contemporary ya, 'chic lit'
Release Date:
June 12th, 2012
Summary:
The Goodreads summary completely sucks, but the one on the back of my ARC is about a page long, and I really don't feel like typing it up. I hope when the publishing date comes closer, a better summary will appear, so keep an eye out. It's a lot more interesting than this current summary:
Four girls. One magical, and possibly dangerous Italian summer. Family mysteries, ancient castles, long hot nights of dancing under the stars . . . and, of course, plenty of gorgeous Italian boys! Seriously, that's the lamest summary of a book. Ever. -I'll keep an eye on the page and update this post if it does change.
So, I have mixed feelings about this book. At some parts I loved it, and some parts I had to notice bad pacing and a wobbly storyline. If I didn't look up the author, I would think this is her debut, but by the end, it made some sense.
I didn't really know what to expect when I started
Flirting in Italian
. I opened it up to read the first chapter, which is what I usually do when deciding if I want to read a book. So, I had been standing in the middle of my room reading over 50 pages without looking up, when I realized apparently this
is
a book I want to read...so I sat down and finished it.
As a traveller, I am a sucker for books that take place in other countries. It's always a nice change of scene from the boring, stupid American school setting. My two recent favs:
Anna and the French Kiss
, which takes place in Paris, France. And the setting of
Wanderlove,
is Central America. This took place in a town near Firenze, Italy. (I've been there!) Honestly I'm not sure if the exact location was mentioned.
The part I didn't like of the book was the sort-of-there-sort-of-not premise. Violet wants to go to Italy because of a random painting she sees in a museum of a girl who looks like she could be her twin. The portrait is from the 1800s, but Violet has always felt strangely left out of the family genes, a 'throwback'. She could pass for Italian, even though her mom is Norwegian and her dad is Scottish. What would you do? Well Violet convinces her mom to take a summer study course in Italy when she really plans on investigating the history of the painting.
It just seemed lame, you know. Because once she gets there, three other girls are taking the course with her (more on that in a second) and 80% of the book is them all out partying with a bunch of Italian guys! Really? Here and there, she goes back to her original mission. And she finds out the portrait of the girl is from the family tree of the hot guy love interest, Luca. Oh, and he is a prince, and lives in a creepy old castle. They might be distant cousins! Gasp.
The part I DID love a lot: the three girls she is staying with. Kelly, the poor bookish redhead from Essex; and Kendra and Paige, the Americans. And they are VERY typical spoiled rich little American teenagers. Violet, our protag, lives in London, which took me a few pages to figure out.
Immediately, they are all so well defined by where they come from. It was fun for me to read from Violet's point of view, the kind of things she notices that the American girls do. Their antics, expressions, I've never read it from a foreigner's point of view. Those were the moments that made me crack up. Kelly, on the other hand, kind of bonds with Violet because they are both from the same place, though opposite upbringings.
It's a fun and silly read, and if you're in the mood for something to take your mind off your problems, this is a great escape. First I thought this was a standalone book, but nearing the end, and only having a week of the eight (of the course) gone by, I figured it would be continued. And at the end, my hunch was confirmed. There will be a companion,
Following in love in Italian
.
...that doesn't sound right. Shouldn't it be
Falling in love in Italian
?? But I've seen two sources with it, so it's not a spelling error. Unless I'm the first to find that mistake... ;)
A solid three stars! And a half. Yeah, three and a half stars.
If this book were a food:
strawberry frosting
.
-Jane