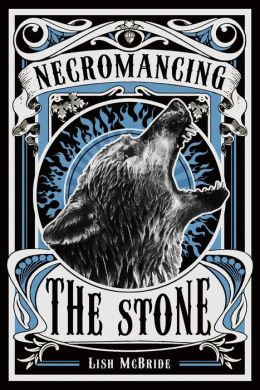 Warning, there are spoilers from the first book in the summary and my review below, so if you haven't yet read Hold Me Closer, Necromancer, you might not want to read any further. But you can find my review of the first book here.
Title:
Necromancing the Stone
(Neromancer #2)
Author:
Lish McBride
Rating:
4 stars
Pages:
344 (hardback)
Summary:
With the defeat of the evil Douglas behind him, Sam LaCroix is getting used to his new life. Okay, so he hadn't exactly planned on being a powerful necromancer with a seat on the local magical council and a capricious werewolf sort-of-girlfriend, but things are going fine, right?
Well . . . not really. He's pretty tired of getting beat up by everyone and their mother, for one thing, and he can't help but feel that his new house hates him. His best friend is a werebear, someone is threatening his sister, and while Sam realizes that he himself has a lot of power at his fingertips, he's not exactly sure how to
use
it. Which, he has to admit, is a bit disconcerting.
But when everything starts falling apart, he decides it's time to step up and take control. His attempts to do so just bring up more questions, though, the most important of which is more than a little alarming: Is Douglas really dead?
I'm a big fan of this new kind of...age group? From my figurings, Sam is about nineteen or twenty years old. He tried a year of college but quit after feeling it wasn't quite his thing, and I'm pointing this out because here's a series which is probably the first "YA" I've read that takes place after high school age. Most of the YA books I come across nowadays have protagonists who are at least two or three years younger than me, so it's not perfectly easy to connect to them anymore. Also, I never went to high school so to me, that's always been an annoying subplot for the 'normal' part in 'paranormal' books. So, I just want to say to all of those authors out there looking for a fresh, barely touched aspect, (or maybe I'm missing a whole bunch of these books that already exist??) take your ideas to the age of in-between. Where young adults are out of that comfort and routine of home and school, and have to dive into the world around them.
Hopefully that made sense, now on to the rest of my review:
Pacing starts out sort of slow with recaps, but I probably had less patience than usual because I finished the first book about a week before, not a year like most would. Anyway, it didn't take long for things to pick up, and I got right back into the story like the first one. In some ways I liked this one better than the first, but in second books there's never that freshness of a new story that always comes with the first one, that's why I rated it a little lower.
The 'bad guy' is once again Douglas, who is not as dead as we're originally led to believe. Whereas before he appeared to me almost too much of a basic villain who has a stupid laugh and not any backstory, we now get a lot of his past revealed. Also, Douglas has more of a legit motive called revenge. That tends to shape a character quite significantly. Sam stabbed Douglas in the neck and now owns all his possessions including his house and servant...you'd get angry too, right?
There are many secondary characters, and they are pretty much my favorite part of this book. We have Frank again, who has become slightly less of a dork. Then the house guardians: gnomes, a minotaur, little army people, and touchy-feely shrubs. Together, they form a hilarious subplot and underlying comedic feature to the story, which usually frustrates or cheers up Sam. The house guardians come off to a rough start, but when matters clear up, they create a sort of alliance with their new house master. Also, James, the...cat/dragon/human servant dude, becomes more of a main character. His split loyalty for Douglas and Sam is deep rooted and subtle, and his character became really fleshed out and real because of his tough decisions.
Weres, vampires, ghosts, zombies, satyrs and bigfoot. It's safe to say a variety of supernaturalness and creatures appear. They're all part of a Council and get along for the most part, and it's nice to see them all present, but not have to deeply explain each mythology, when really only the weres (at this point) are of importance to the story. So there aren't any boring back stories on creatures that aren't important yet.
Now, there are hopefully going to be two more books in the series (but not comfirmed...and maybe just set in the same world?) so I look forward to seeing more of Lish's writings!
~~
And now for the giveaway! :) US only, just enter the rafflecopter below for a
signed hardback
of
Necromancing the Stone
. (You know, the book I just reviewed above.) Thank you for the copy, Lish!
a Rafflecopter giveaway